AMERICAN WINO (.com)
Your shopping guide for World Wines, Accessories, and Wine Gifts from the leading suppliers!

---
WINE CLUBS
---
---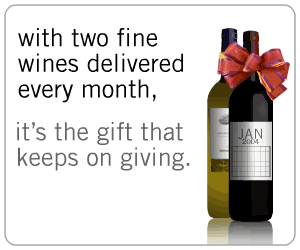 ---
---
The Wine Every Month Club invites you to join up. Discover hand-picked wines from around the world. Each month you'll travel to your favorite wine regions and enjoy delightful selections. A reward for yourself, or a very special gift, The Wine Every Month Club offers satisfaction guaranteed.

---
---
YOUR ESSENTIAL CELLAR EQUIPMENT SOURCE
---
All registered trademarks mentioned herein are the property of their respective owners.
portions copyright © HCB <> all rights reserved. Our privacy policy.
Return to Home Page || BOOKMARK THIS SITE